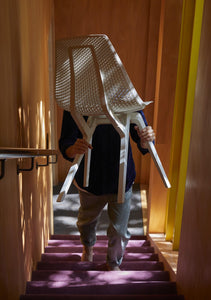 What it Means to 'Live Well' – We sat down to talk some sit with Formway, the designers of the noho move chair
Paul and Kent, Co-CEO's of Formway, led Formway in the design and development of noho move - from inspiration, to research, to engineering, design and production. They're both truly masters of comfort!
"We're both passionate about furniture and design and creating a design culture – a team of people – that can produce amazing products."
Keep reading for the full interview:
Q: How have you gone about building a creative team? 
A: We're interested in people who bring their passion to the table. We have an engineer who is really into fine art and another who's into building surfboards – they're into making, creating, and inventing things. That's the first sign that you have people with broad interest. When they bring that energy for what other people are doing to the table it becomes a very collaborative process. We are always testing and learning – everyone gets to learn everyone else's job and learn what others are doing. It's a culture you can feel.  
Q: What was your role in bringing the noho move chair to reality? 
A: The studio undertook a focussed research programme that identified the opportunity, and then test and develop the concept for the chair. It was originally intended for license, but having a 'sister' brand for which we design is something we've always wanted to be involved in. It's been a five-year journey!    
Q: What did that original conversation look like between the two of you – all those years ago? 
A: We'd done years of research, design and development of dynamic workplace seating and we thought: 'Why do we sit on a static product everywhere else? Why shouldn't this type of performance and ergonomics go across a broader market sector?' We noticed there was a separation: work needs all these things but home, and home objects, were focussed on aesthetics and not on performance. Health and wellbeing in the home is just as important as it is at work. It just felt like a natural conclusion.  
"The [noho move] chair is a lot like shoes – you put on a bad pair of shoes and you notice the discomfort. But you put on a good pair of shoes and you don't ever think about it. They just work. That's why we call it 'subconscious seating'. We want to craft things that subconsciously perform for people. They don't have to operate it – it just works."
Q: What did the design process look like for the noho move chair? 
A: We were targeting a product that spoke of new performance yet was beautiful. It was quite a challenge. The chair pushed us into a whole new level of dealing with new materials and exploring flex and movement. We have a line-up of all the prototypes – we knew what we were trying to achieve, and it took 15 different models of chair in a row [to get there]. There were lots of different experiments. 
Q: Is the auxetic pattern/design used in the seat of the noho move something that's used in any of your previous designs? 
A: No. The noho move is the first product we've used it in. It's something we came across and the reason we ended up using it for the project is because it was able to evolve more and more into what we were trying to do. One of the things we wanted was to have a single piece shell that can change shape quite dramatically. The auxetic patent enables the material to move far more dynamically. It was something we became quite fascinated with. 
Q: What about the future of design is most exciting to you? 
A: We are excited by is design that delivers new performance that users value, and by doing better for the planet. We like looking into how the product is used and the sourcing of recycled materials. There's been a focus in our designs for some time about how to manage the environmental impact.
The truth is that any product design has some environmental impact. So, either we stop what we're doing, or we strive to do better. [noho is striving to be a business that's 'net benefit' to the earth.]
What we are seeing now is so many opportunities for recycled materials. Aquafil's Econyl product is an amazing step forward in the recycling process, re-polymerizing [waste plastic] back into a high performing engineering nylon. We are seeing this more and more: new processes to recycle high value material that people never thought would be able to be re-processed. We are really excited about developing more products that step up again in the reduction of impact on the environment. 
"It's an exciting time to be in design but it's also a time where we need to really step up. In every area how do we tackle the environmental impact that we're all having on the planet?"
Q: What is your favorite part of the design process? 
A: Our favorite part is the concept phase. It is the most invigorating phase because by that point you have discovered a need that you really believe in and you're asking yourself 'how can we deliver on that? Is this a thing that can enrich people's lives and make them better? What are the new innovations? What are the new materials? How can we use them differently?'That whole process - making stuff, testing it, breaking it, trying the next one - that whole circle of design is the piece we enjoy the most. 
Q: What impact are you hoping that noho will leave on the market or the world? 
A: We would like this to be a platform, a brand that can continue to deliver solutions around performance for people and the environment. We are keen to develop more products that use materials in ways materials haven't been used before. Lower carbon footprint, more recycled content. And also, like we said before, enriching people's lives. What we want to do is put products out there that people feel good about and make their experiences in life better. 
"Through our experience in seating design, we've learned more and more about how people actually live and how they use products. We wanted to create something that would make long dinner's and conversations with friends more enjoyable and comfortable. We talk a lot about enriching lives by creating a better experience."
---